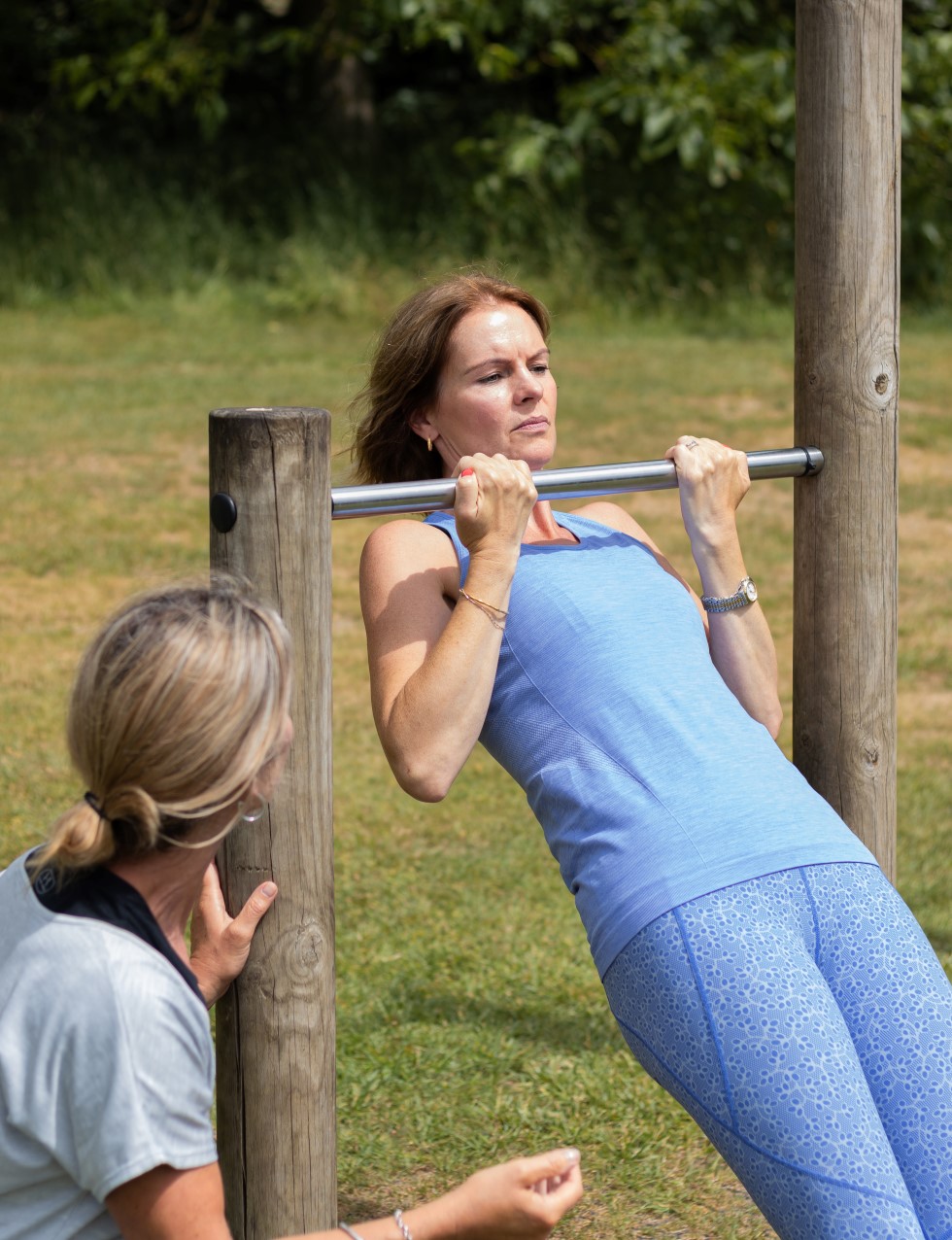 PRIVATE PERSONAL TRAINING SESSIONS AVAILABLE TWYFORD, WINCHESTER OR FROM YOUR OWN HOME
Everyone's fitness goals are different and as such we work with you to come up with a personalised training planning that helps you achieve your own individual goals, which we will discuss with you on a regular basis.
Our personal trainers can help you achieve your personal fitness goals:
Losing fat and gaining muscle tone
Attaining safe and lasting weight loss
Gaining motivation and concentration in life and work
Improving mobility and posture
Increasing cardiovascular fitness
Feeling your goals are achievable
We use a range of training techniques to help you achieve these goals:
Weight training
Pilates
Kettlebells
Balance and body weight exercises
HIIT and cardio exercises
Nutrition and understanding how to maintain a healthy and balanced diet.
Our successful personal training services also include
An initial fitness and lifestyle consultation to establish your goals
A health assessment/ Q&A screening/ benchmarking
A personalised workout programme
A personalised eating plan (optional)
Advice on maintaining a healthy lifestyle and much more!
Where we are located
We have a light, airy, clean and fully equipped fitness studio in Twyford, near Winchester or our personal trainers can come to your home – we cover most of Hampshire. We also offer online personal training.
If you would rather train online, we offer Zoom online personal training sessions that allow you to work-out from your home with little or no equipment, while still following a structured programme to achieve your goals.
Our personal training sessions are always varied – we offer sessions outdoors and in our fitness studio, and use a range of fitness equipment to keep your training varied and enjoyable. Whether you would like the motivation of private personal training sessions or would like to train with a group of friends – we can create a fitness programme to suit your needs.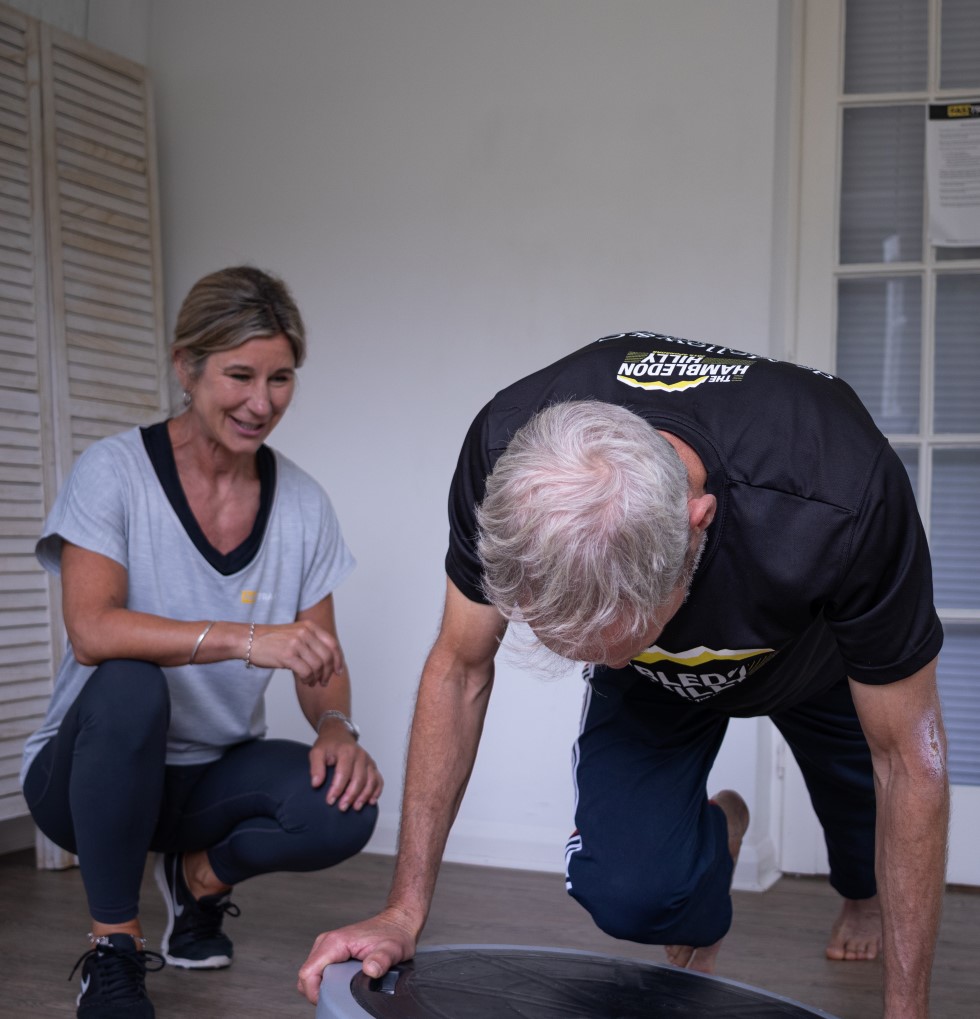 Testimonials
Here are some testimonials from clients who enjoy Fast Track EMS personal training. Read more reviews on the Fast Track EMS Facebook page:
I started training with George just over 6 months ago and can honestly say that signing up to get into better shape was one of the best decisions I've ever made. I'm so lucky to have found such an amazing trainer. George has made me feel proud even of my smallest achievements and after sessions I feel much stronger both physically and spiritually. I fully trust my PT – he's very patient, always encouraging me to push myself harder to achieve goals. It's also been a lot of fun – we've laughed so much! I'd recommend George at Fast Track to anyone looking for personal trainer to make a real difference to their lives.
Penny McKelvey
Great workout, better than weights and superb client care – its a real pleasure to be trained by the Fastrack Team
David Collinson
A fantastic full body workout that really gets deep into the muscles and is tailored specifically to my needs. Always varied and lots of fun. Would thoroughly recommend to anyone at any level of fitness – it really works!
Nadine Collinson
I started training with George at Fast Track EMS to help me support a long term chronic illness and it's been a great way to condition my body and build muscle to support my day-to-day life – I'm really feeling the benefits. George and the team are very knowledgeable and couldn't recommend them more.
Marcus Adams
I've been training with Tom, George, Rachel and the team for around 5 years now and I couldn't rate them more highly. Every EMS session is slightly different depending on your focus and the range of exercises chosen, but each one gives a deep tissue workout that you can feel for days afterwards. I'm a keen runner and cyclist, and EMS really compliments my other training. In fact I believe it's a big help in keeping me injury-free by working all the muscles and stabilisers I might otherwise miss. To cap it all off, they're all lovely warm people who care about doing a great job. Hats off to all of you at Fast Track Fitness!
Nick Belcher
"Fast Track personal training workouts are very effective and have really complemented my existing workout routine. I feel so much stronger and my achy back much improved."
Via Facebook
Leigh
"This is a great way to train, each personal training session is intensive and the results are amazing."
via Facebook
Emma
BOOK A
FREE TRIAL!
Experiencing our personal training sessions is the best way to understand how we can help with your fitness goals. We can either come to your home and offer mobile personal training sessions across Hampshire, or visit our private studio in Twyford, or you can book an online trial.
TRIALS ARE AVAILABLE AT OUR STUDIO IN TWYFORD, NEAR WINCHESTER, OR IN THE COMFORT OF YOUR OWN HOME.
Fast Track Fitness personal trainers
We have a very small team of personal trainers who are highly skilled and trained. We pride ourselves on working with clients of all ages and fitness levels and our fun, friendly and encouraging style of personal training.
Meet our trainers:
Tom:
Tom has a long background in fitness, rehab and sports training ranging from swimming to skiing. He is the business owner and is a fully qualified EMS trainer.
Rachel:
Rachel is hugely experienced, fully qualified EMS trainer with fantastic personal training and pilates knowledge.
Jade:
Jade is a highly experienced personal trainer, pilates and yoga teacher with a background in a variety of group exercise classes. Alongside her fitness qualifications she is a massage and holistic therapist specialising in deep tissue and reflexology.
Sophie:
Sophie is a qualified nutritional practitioner and as part of our team and she can help with lifestyle focused packages to offer a more holistic, health package.
Anna:
Anna is a Personal trainer, group fitness instructor, nutrition advisor and GP exercise referral specialist with additional qualifications in metabolic syndrome and cancer exercise rehab.
She is experienced in working with clients with chronic medical conditions as well athletes in training for events to optimise levels of functional fitness and strength.