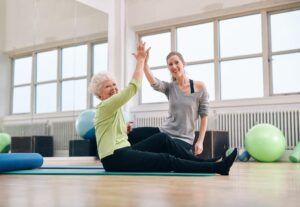 We have a fantastic team at Fast Track fitness and we wanted to give you a little more information and background of our small group of trainers. We've compiled a few questions for our team to answer over the next couple of weeks.
We spoke to George in November, and this month we speak to Rachel Barrett.
Rachel Barrett
How did you get into Pilates?
I started practicing Pilates regularly myself about 6 years ago after hurting my back. I immediately loved it and found it so beneficial to the aches and pains I was experiencing. I've also loved the combination of Pilates and EMS for strengthening my body and helping me to move more fluidly.
What are your qualifications?
EMS trainer qualification (2017)
STOTT Pilates matwork qualification (2019)
Zenga matwork qualification (2020)
What's your training style?
I like to take a flexible approach when training clients and adapt to their changing needs. I also like to ensure they know how to move well and understand why I am asking them to do particular exercises. Particularly in the case of clients recovering from injury, it's really important they understand how to move well not only when I'm training them but at other times too.
How do you work to achieve client goals?
I try to set goals with clients and regularly review these to ensure their needs are being met and haven't changed.
What's your most recent success story?
I think that anyone turning up to train regularly, fitting in exercise in a busy lifestyle, and training with injuries or niggles, is doing absolutely brilliantly; for me, that's a success in itself.
I've been training Val for a couple of years and she's recovering from 2 hip replacements as well as a number of health problems. My focus with her is on very functional movements that will make her everyday life easier. Recently we have been working together to help her get out of bed unaided. Her determination and hard work have really paid off and she now manages to get herself up unaided on some occasions.
If you are interested in personal training with Rachel please call us on 07740 193 332.